Crazy K Ranch is a fully operational Black Angus cattle ranch located in Michie, Tennessee. We strive to offer the very best genetics in the beef industry all the while taking every measure possible to ensure the health of our bulls, heifers and calves.
Spring Production Sale
Our 10th Annual Spring Production Sale will be held on Saturday, April 8th, 11:00am. The sale will be broadcast live by LiveAuctions.TV – contact us for more details!
Sales Book & Lot Videos
View the Sales Catalog for our Spring 2023 Production Sale on Saturday, April 8th at Crazy K Ranch in Michie, TN. Also view videos of each lot available at our Production Sale.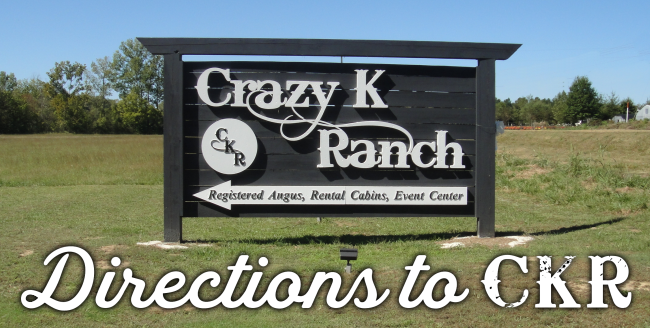 Home Sweet Home
Crazy K Ranch is located in Michie, TN – a small town in southwest Tennessee, not too far from the Mississippi border and Pickwick Lake. Click here to get directions to the place we call home.

Crazy K Ranch takes great pride in everything we do. For the past decade we have worked extremely hard to develop the absolute healthiest possible herd of Black Angus cattle. Now we want to share the results of that hard work with you, straight from our ranch to your dinner table. The CKR Meat Market and Online Store offer wide array of cuts of meat, all of it 100% Black Angus beef raised right here at Crazy K Ranch.